AC Sundancer Poplar
Populas x ACWS151

A new hardy upright male selection by AAFC-AESB Agroforestry Development Centre, Indian Head, SK from a cross between P. x 'Walker' and P. xCanadensis 'serotina de selys'. AC Sundancer has shown resistance to disease and insect pests such as poplar bud gall mite, cytospora, septoria canker and melamspora leaf rust.
It is cold hardy and drought tolerant. It is not likely to spread by root suckers and is widely adapted for planting in the Canadian prairies. Its hardiness should be trialed in Chinook conditions.
Advance Upright Aspen
Populas tremuloides 'Advance'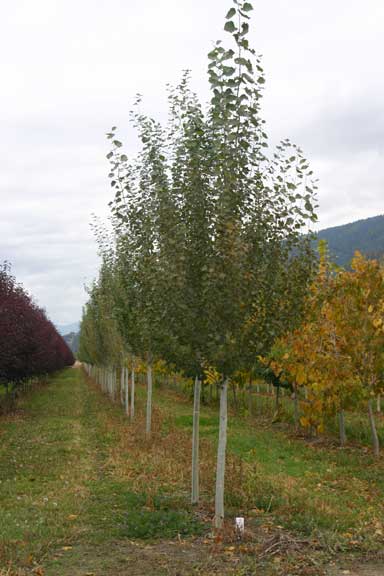 We made this selection approximately 15 years ago from trembling aspen seedlings. Its branching is very upright, much like a Tower Poplar, with a very white trunk colour.
Growth is vigorous and requires no pruning. Very transplantable and not susceptible to shoot-tip blight.
This must be Spring dug.
Juliet Cherry
Prunus cerasus 'Juliet'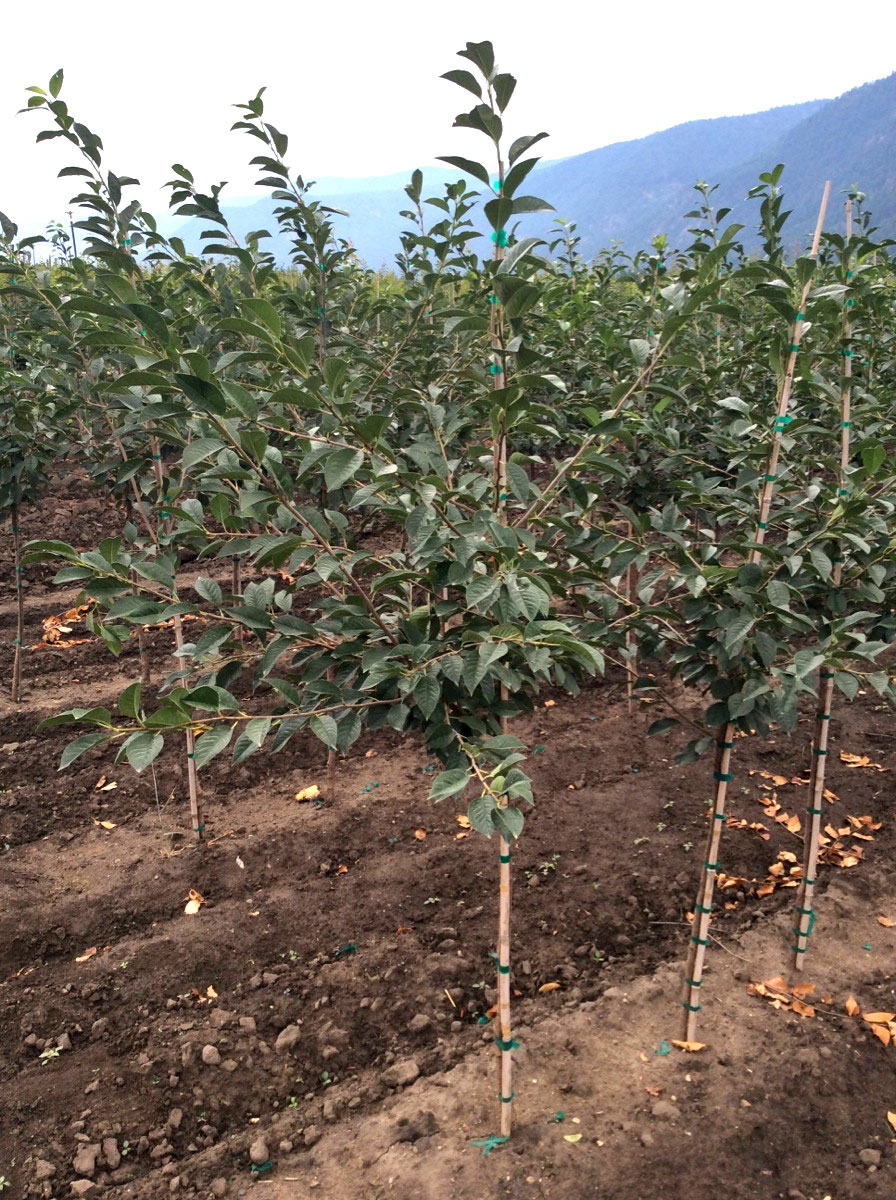 Juliet has an excellent fresh eating cherry with high sugar content and is also great for processing. The plant produces few suckers and is self-pollinating.
Signature Japanese Tree Lilac
Syringa reticulata 'Sigzam' Signature

This new tree-form lilac introduction blooms 1 - 2 weeks later than Ivory Silk, extending the lilac season. Its white flowers are formed in round panicles rather than the conical form of Ivory Silk's flowers.
This variety has more upright columnar branches than Ivory Silk and its foliage has a bronze fall color.
Highly recommended new introduction.
Trojan Green Ash
Fraxinus pennsylvanica 'Durwinky'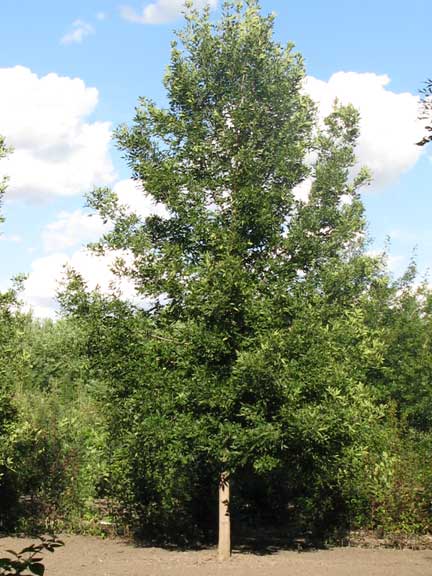 A Rick Durand introduction from Winkler Manitoba.
It is an extremely hardy seedless male tree with a very upright and compact growth habit. We believe it is the hardiest of the male seedless strains of Green Ash.
It is an excellent choice for spaces that require limited horizontal spread.
Casino Apricot
Prunus mandshurica x 'Dur Garfield'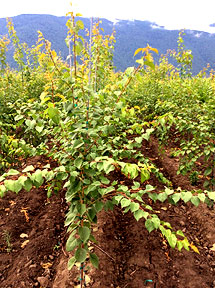 Very hardy and high quality fruit that is oval to slightly oblong and freestone.
The yellow fruit ripens in August with a red tinge on the blush.
It is semi-self-pollinating but will set a heavier crop if it is cross-pollinated with another apricot or Nanking Cherry.
Summer Frost
Maackia Amurensis 'Summer Frost'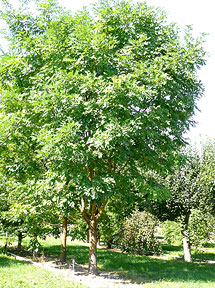 Exclusive to Advance Nursery.
A selection by Garfield Marshall from northerly sourced Amur Maackia seedlings. Summer Frost is a hardy compact tree for tough sites but may not be totally hardy in "Chinook Belt" areas. Only reaching about 15' tall, it tolerates severe dryness, cold and heavy soils.
The unfolding spring buds evolve into silvery and showy summer flowers with a frost-like appearance.
Gladiator Flowering Crabapple
Malus x 'DurLeo'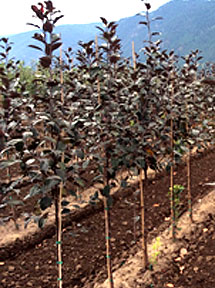 A Rick Durand selection of an attractive hardy rosy-bloom crabapple.
It has a stately appearance with its tidy upright crown form and dazzling glossy burgundy-purple leaves accompanied by a profusion of bright pink flowers in the spring followed by small reddish-purple ornamental fruit.
Gladiator has a high resistance to both fire blight and apple scab.
Patmore American Elm
Ulmus Americana 'Patmore'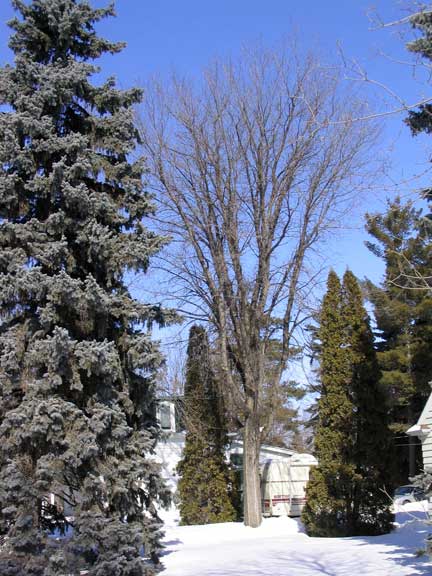 Exclusive to Advance Nursery.
An upright selection of American Elm that has a more regular and stronger branch pattern than Brandon that allows it to be more easily grown with a dominant leader.
Navigator Pear
Pyrus x "DurPSN 303'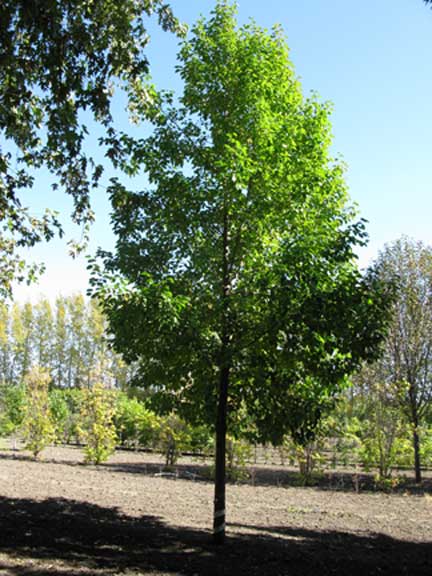 An extremely hardy selection from Manitoba by Rick Durand.
Excellent as an ornamental and performs better in higher PH soils.